With good sea conditions the turn out and weigh in was up on recent years. A total of 46 people weighed in 295lb of fish comprising of 71 cod, 1 dab, 10 flounders, 3 pouting, 20 rockling, 9 whiting, 1 ling and 1 polymog. There were 104 anglers.
The £300 first prize for the overall winner went to Dave Turnbull (SADSAA member) from Darlington with 6 cod for 23lbs 5ozs. Dave was fishing at Whitestones. He also collected £54 in the Superpool. Dave was last years heaviest fish pool winner.
In second place with 6 cod and 2 rockling for 20lb 6ozs taken from Runswick was Dennis Thompson of Whitby. In addition to his £100 prize Dennis also collected £36 second prize in the Superpool.
Third place went to Steve I'Anson with 3 cod for 16lb 9.75ozs taken from Cowbar. He picked up the £50 prize plus the heaviest fish pool prize of £93 for his 9lb 12.25ozs cod.
Ladies winner was Vanessa Barker from Redcar (£25) and Junior winner was J. Hutchinson (£25)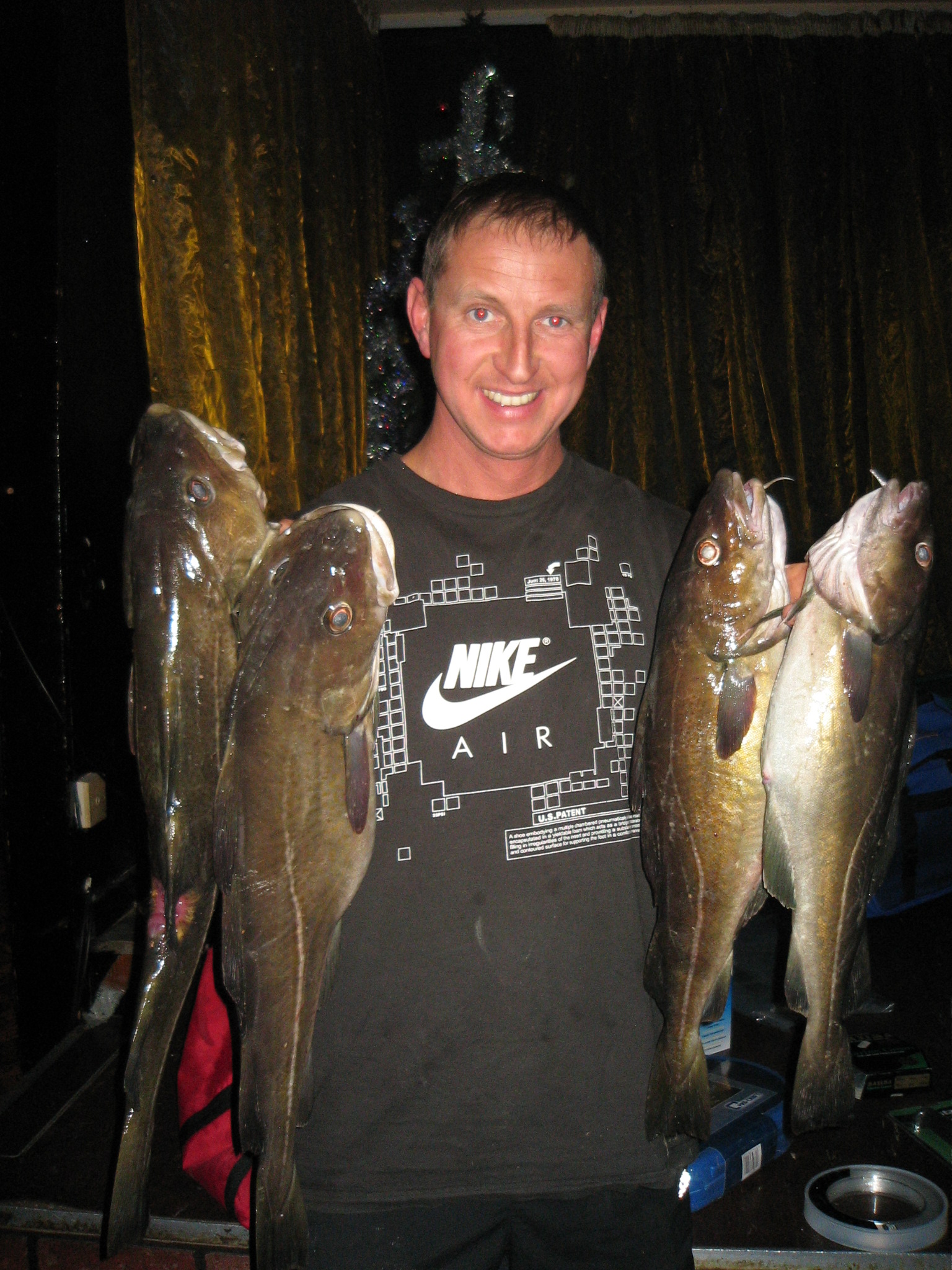 Dave Turnbull with 4 of his 6 cod which won him first prize.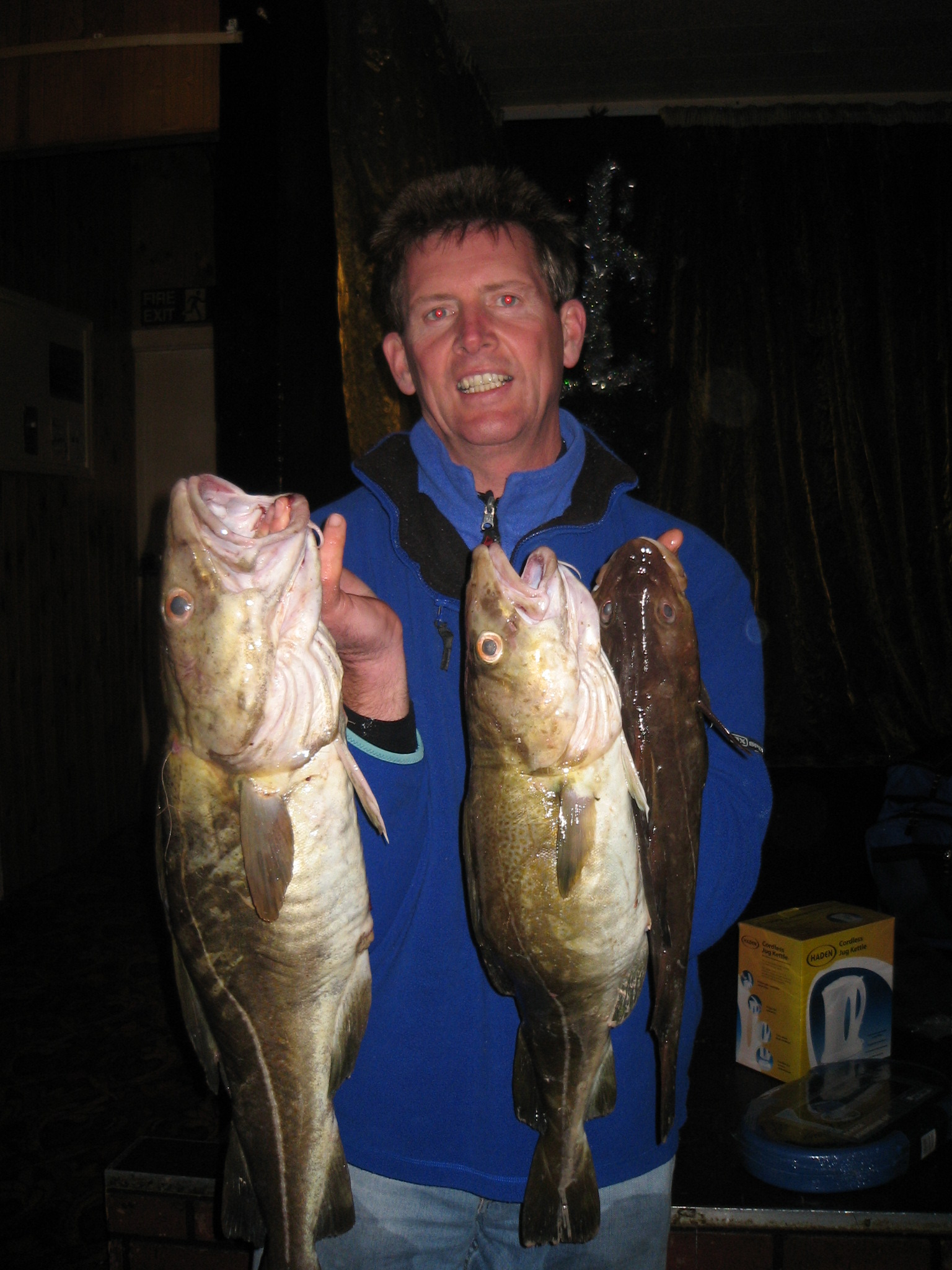 Steve I'Anson took third place.
Other Sweep Winners were:-
HEAVIEST SINGLE FISH
2nd Mark Dunbar cod 7lb 7ozs Hummersea (£56)
3rd Rob Osborne cod 7lb 0.25ozs Runswick (£37)
Team winners were:
Dennis Thompson Chris France 35lb 9.25ozs £40
Mark Smith Dave Turnbull 27lb 10.25ozs £26
Other results were:
4th Chris France 15lb 3.25ozs
5th Nick Westgarth 13lb 15.5ozs
6th Rob Osborne 12lb 12ozs
7th Mark Dunbar 12lb 8.5ozs
8th Rob Allison 10lb 0ozs
Joint 9th Dave Allinson 9lb 6.5ozs
Joint 9th Bernard Westgarth 9lb 6.5ozs
11th Paul Medd 9lb 1.25ozs
12th Andy Crowe 8lb 14ozs
13th Chris Scaife 8lb 9.75ozs
14th Jamie Richardson 8lb 6.25ozs
15th Mick Chadwick 8lb 5ozs
16th Paul Short 7lb 7.25ozs
17th J. Dixon 7lb 4.75ozs
18th J. Hutchinson 6lb 14.5ozs
19th John Nixon 6lb 12.75ozs
20th Harry Moon 6lb 8ozs
21st Ian Thompson 6lb 6.5ozs
22nd D.Hanson 6lb 4.25ozs
23rd S. Fleming 5lb 12.25ozs
24th Stan Preston 5lb 1ozs
25th D. Philips 4lb 15.25ozs
26th Paul Kilpatrick 4lb 12ozs
27th Paul Lobley 4lb 10.75ozs
28th M. Smith 4lb 5.25ozs
29th G. Annis 3lb 15.25ozs
30th V.Barker 3lb 10.25ozs
31st Colin Sharp 3lb 8.25ozs
32nd Dave Turner 3lb 2.25ozs
33rd A. Little 2lb 14.25ozs
34th Matthew Hillerby 2lb 13.5ozs
35th Steve Coverdale 2lb 8.5ozs
36th K. Hewitt 2lb 6ozs
37th P. Moran 2lb 5.75ozs
38th T. Barker 9.5ozs
39th G. Watson 8.75ozs
40th Guy Mason 8.25ozs
Joint 41st B. Cooper 8ozs
Joint 41st A. Jackson 8ozs
43rd Shern Hambley 6.75ozs
44th G. Joyce 6.25ozs
45th Liam Allinson 5ozs
46th Mike Whincup 1.75ozs
Everyone who weighed in won a prize.